Why Storyline?
Storyline's unique affiliate program offers a variety of benefits to its Capsule Wardrobing Editors...
Quick Launch

Enjoy a full service fashion business without the bricks and mortar responsibility.

Inclusive Sizing

We love editing wardrobes for ALL women, and design for sizes XS through XXL.

Sell Your Way

Sell online, via social media, via parties, or person-to-person. Choose what works for you!

Generous Compensation

Editors earn 25% with additional 5% bonuses at 1K and 4K monthly sales.

Training & Support

Earn your initial business investment back in a single order. We'll teach you how to share our unique fashion message and cheer you on along the way!

Referral Rewards

Know someone who'd make a smashing Editor? We'll say thanks with a cash bonus or a gift card, your choice!
Haven't You Always Wanted To Be The Boss?
We opened our Editorships to the U.S. public in 2019 -- this is a ground floor fashion opportunity like no other! And we did that by design. Literally. Our designer, Sunil Ramchandani, brings years of experience making women feel their confident best through capsule wardrobing. As an Editor, you will work with the design team to bring the magic to your clients, earning respect, financial rewards, incentive treats...and a great new wardrobe!
Our Company's Four Values
Everything we do has to be in line with our four core values. You will see this the minute you join our team. Your paycheck is yours to design, and we continually provide offers and incentives to tempt clients to add to their mix/match/marvelous wardrobes. It's a capsule concept and we alone offer this opportunity! Want to build a team? We're here to help with personal and team coaching, kit specials, and monthly showcases.
Build your business your way!
Two Ways To Launch
After sign up, you'll be able to choose a launch option. Learn more about our FAN FICTION and BEST SELLER toolkits...
OPTION #1: $19.99
Have a fashion blog? Add your Storyline Branded URL to your sales strategy. Designer fashions, inclusive sizing, Capsule wonderful! Join us for $19.99 and start earning 25% commission on designer fashion sales today!

plus! Join by Oct 31st and get a free Wrap Cardigan!
OPTION #2: $99.00
GO BIG! This option has everything you need to launch your designer fashion empire. 25% commission is just the beginning. To help you get started with a bang, Option #2 is designed to launch your business in style. Your kit will arrive with 3 pieces - one top, one bottom, and one jacket or dress - in a variety of sizes designed to showcase Storyline fit, feel, and fabric, in our branded tote! You'll be ready to schedule style sessions right out of the box!

plus! Sell $500 in your first month and you'll automatically earn a $100 Gift Card!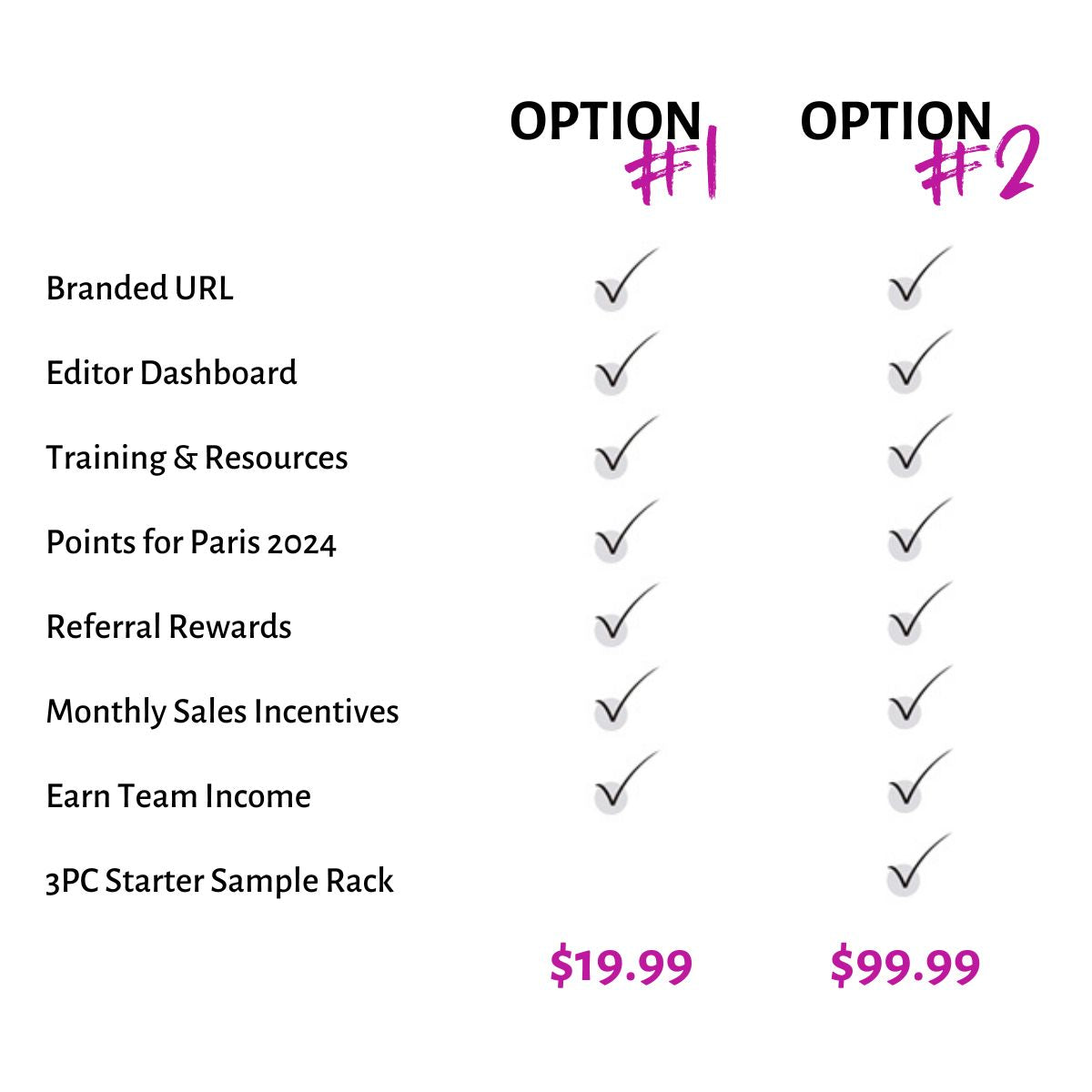 Which Launch Option Is Right For You?
Choose your launch option based on how you plan to work with your clients:
Option #1 is for the digital dynamo. If you're an influencer and/or you'll be selling exclusively through social media, this is your quick start option.
Option #2 delivers a style session to your door! Wear it WELL! Join us today, and create the sales that suit you!
Not quite ready to join? Not sure which option is right for you? We can help. Contact us to be invited to our next Fashion Workshop!
The Editor Opportunity: Q&A

Why join the Storyline Collection team?

Maybe you want to build a thriving fashion business without the bricks-and-mortar commitment...

Maybe you are an advocate for Capsule Wardrobing, or a Stylist looking for classic basics and elevated separates to serve your clients...

Or MAYBE you like sharing styling tips with friends and family and love the flexibility this YOB (Your Own Business) provides.

A big heart? We have one too! We love to support FUNdraisers and work with you to build the best platform for your project.

We like to be IN BUSINESS: You may choose to focus on sales, including hosting your own "show" each month and earning free product. You may build a team and take advantage of our easy and generous compensation plan; you may develop your sales leadership skills and qualify for marketing and travel support from our national development program. Whatever your why, THE PERFECT FIT for you can be found on this amazing team. Learn more about our Editor Program and apply below!

Why do you call your stylists Editors?

Well, we are all about telling a STORY, whether its what you did today, or what you are wearing to do it! Who better to help "make sense" of a curated capsule wardrobe than a trained EDITOR? What tale can we spin together?

What are the costs and requirements to join the team?

NO NEED to carry inventory! Our "fit kits" work from season-to-season, our color palette builds with each "drop". Our limited edition designer fashions are made to be here....and gone! We offer fresh looks regularly to keep your business alive!

Costs to join include a one-time kit purchase, and a monthly $6.95 tech fee arranged through ACH withdrawal. There is a 3 month minimum after sign up attached to the tech fee.
Close